Easy snack for sweet teeth, candied peanuts (糖霜花生).
I get the request from one of my reader for the recipe of Chinese syrup coated peanut. I have searched some information and find a little bit hard to give an exact name of this dish. Generally it is a Chinese snack, coated peanut with strong sweet taste (Chinese coated peanuts). There are other coated peanuts as snacks in China. I have been eating them for years in my childhood.  Some of them are coated with a "weird" taste, sweet but also spicy.  My daughter does not eat spicy food, so this pure sweet version can be a good start.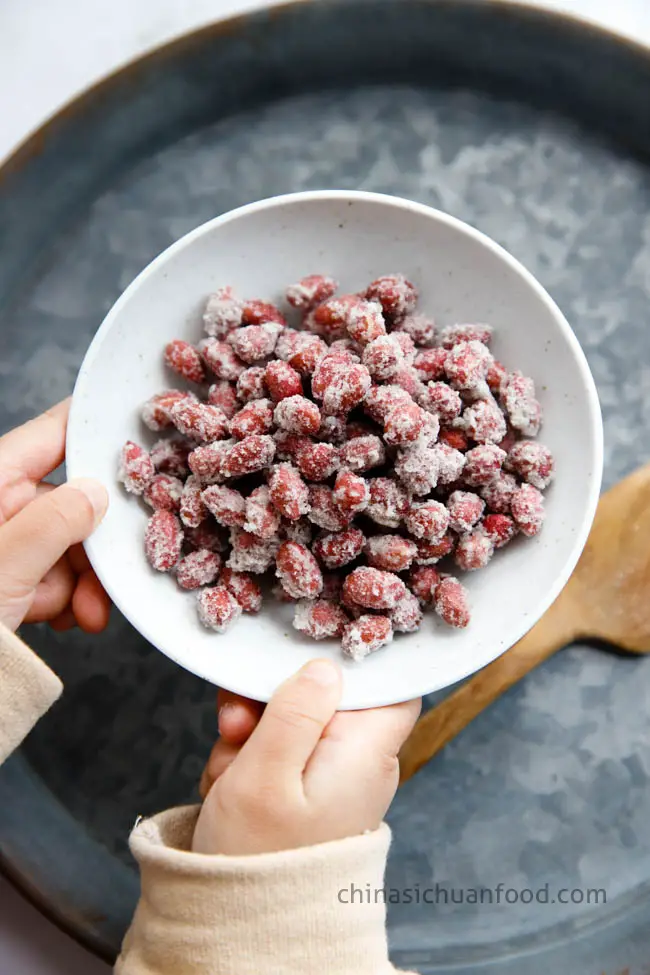 Peanuts are quite humble but they can be delicious when well cooked. We love to serve peanuts as side dishes for meals.  In summer and autumn days when fresh peanuts are available, our national choice is boiled peanuts (水煮花生) . In other seasons, peanuts are either pan fried with salt or a mala flavor.
Cook's Note
I use only sugar, salt and peanuts in this recipe. However, adding cornstarch can make the white layer thicker. If you want to add cornstarch, place the cornstarch in a bowl and heat with high fire for 2 minutes in a microwave oven (to remove the raw taste) and then add the cornstarch after adding peanuts to the syrup.
(Click here to see some suggestions for delicious Chinese Snacks. – Opens in new tab.)
Steps
Spread the peanuts in a baking sheet and roast for 15 to 20 minutes with 150 degree C.
Add water, salt and sugar. Heat over slow fire until it forms large white bubbles. The syrup should be around 110 degree C. Do not over cook the syrup. If the syrup turns golden yellow, then the syrup is overcooked. High temperature syrup gets crispy after cooled down and usually is used for another famous Chinese snack (peanut sesame candy)
Slow the fire firstly, stir the peanuts in.
Stir the peanuts gently, crystallization begins.
Candied Peanut
Chinese Snack–coated peanuts with starch and syrup, candied peanuts
Course: Snack
Cuisine: Chinese
Keyword: coated, peanuts
Servings: 2
Calories: 1259kcal
Author: Elaine
Ingredients
300 g peanuts
150 g granulated sugar, or more as needed
1/2 cup clean water
a small pinch of salt
Instructions
Pre-heat oven to 150 degree C. Spread peanuts evenly on baking sheet and roast for 15 to 20 minutes. Mix the peanuts evenly once or twice to make sure they are evenly cooked.
Heat the sugar along with water and a small pinch of salt in a pan. Heat over medium to low fire. Stir from time to time until the thin syrup form large white bubbles . Slow down fire, stir in the peanuts and make the peanuts well coated with syrup.
Transfer out gently and cool until completely cooled down. Transfer to air-tight container. Keep in shadow place up to 1 week.
Recipe Notes
Those peanuts need to be stored in an airtight container. And enjoy whenever you want.
Nutrition Facts
Candied Peanut
Amount Per Serving
Calories 1259
Calories from Fat 666
% Daily Value*
Total Fat 74g
114%
Saturated Fat 11g
55%
Sodium 36mg
2%
Potassium 1116mg
32%
Total Carbohydrates 126g
42%
Dietary Fiber 14g
56%
Sugars 74g
Protein 39g
78%
Calcium
15.9%
Iron
33.4%
* Percent Daily Values are based on a 2000 calorie diet.
Do you want to learn more about Chinese cuisine? Check these cooking books – Opens in new tab.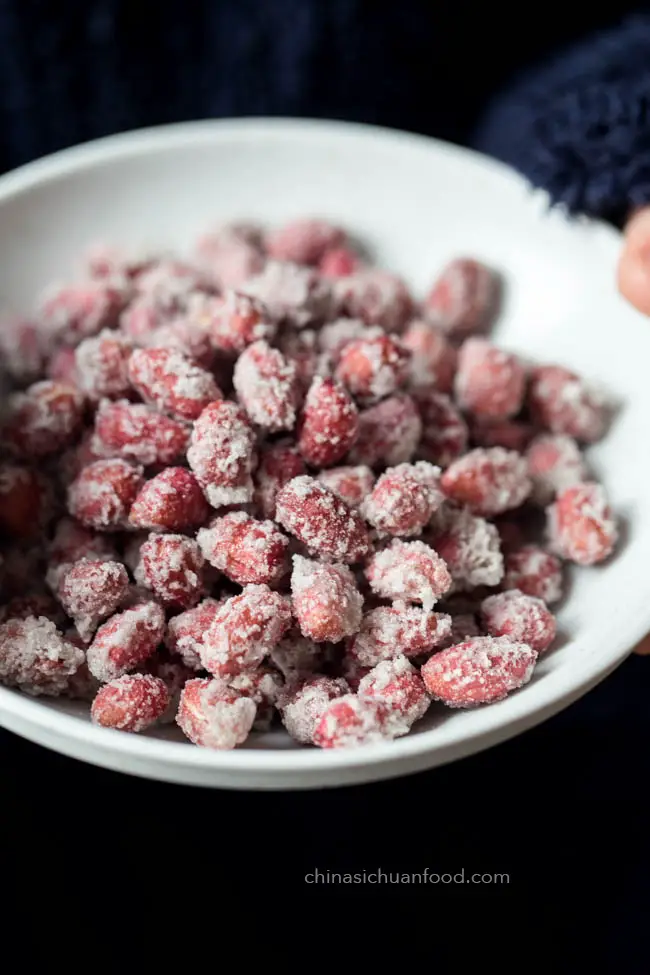 This article was published by chinasichuanfood.com. Click here to read the original.