Chinese Century egg is also named as preserved egg, hundred-year egg, thousand-year egg which is commonly made from preserved duck eggs.
This is a dish I have struggled about whether introduce it or not because my husband hates the century eggs. But the fact is that he is quite sticky concerning about food for example he does not like bacon, sausage, pickled vegetables. Fresh meat and vegetable will be his first choice for ever. But there are a large group of century egg lovers.  My family members all love it very much.
What's Century Egg
Century egg or preserved egg are named as "皮蛋"or "coated eggs".  Chinese century egg is encrusted with mud on shell with a transparent brown jelly. The coating mud actually contains soil, salt and a strongly alkaline material, which might be mood ash, lime, sodium carbonate, lye or other alkaline solution. It takes around several montes to mature, varying from one month to 3  months depending on the room temperature.
Pine-blossom eggs (松花皮蛋) is the most popular type of preserved eggs in China. Looks at the textures carefully, you can see the "flowers" dotted on the egg. Those flowers actually is crystallization of amino acid salt.
(Click here to see some suggestions for delicious Chinese Snacks. – Opens in new tab.)
Another type of pidian has a yellow running  yolk and a clear, yellow jelly. We call this yellow type "变蛋". It has a very similar but lighter taste. So it should be a great choice for starters.
This is a super easy recipe for century egg lovers.  But if you have not tried yet, start with a much milder version with congee.
Steps
Heat oil in a pan and add garlic and chopped green pepper, fry until soft and aromatic.
Pour the chili pepper over the eggs.
Add other seasonings including sesame oil, light soy sauce and salt.  For a even hotter version, drizzle some Chinese chili oil on top.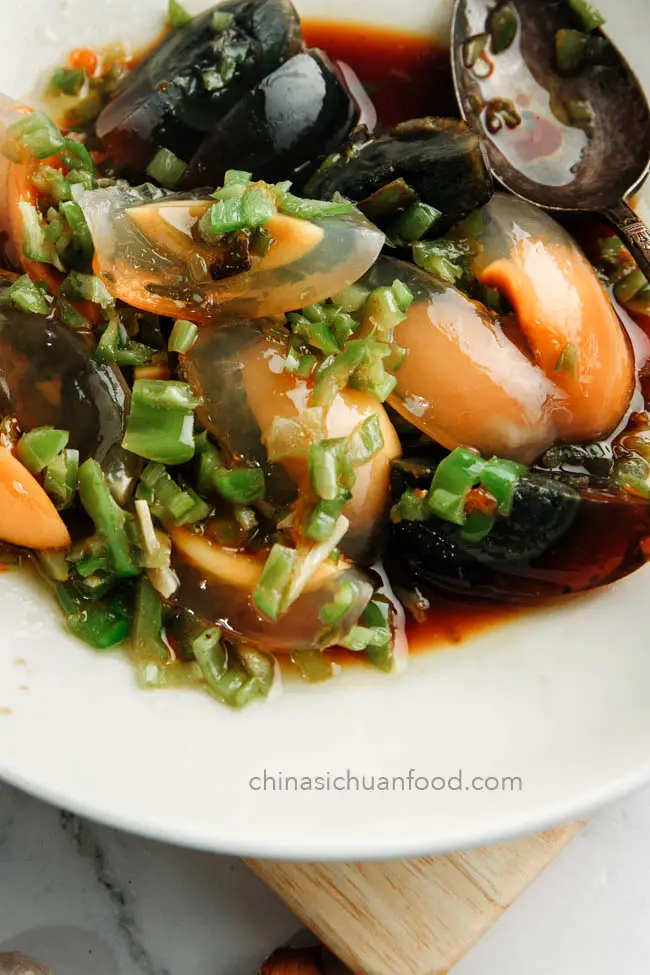 Century Egg Salad (Pidan Salad)
Chinese Century Egg Salad (Pidan Salad) with green peppers and red peppers.
Course: Salad
Cuisine: Sichuan cuisine
Keyword:
Century Egg, pidan
Servings: 2
Calories: 289kcal
Author: Elaine
Instructions
Peel the century eggs and then cut into wedges. Place them in serving plate.
Heat around 1 tablespoon of vegetable cooking oil in pan and fry chopped green peppers and garlic until soft and aromatic.
Transfer the fried chili peppers to serving plate. Add sesame oil, light soy sauce and salt. Mix before enjoying.
Recipe Notes
It is just a habit to boil the century eggs, you can skip this step. They can be eaten directly as long as vinegar is added.
Nutrition Facts
Century Egg Salad (Pidan Salad)
Amount Per Serving
Calories 289
Calories from Fat 198
% Daily Value*
Total Fat 22g
34%
Saturated Fat 4g
20%
Cholesterol 884mg
295%
Sodium 1565mg
65%
Potassium 413mg
12%
Total Carbohydrates 8g
3%
Dietary Fiber 1g
4%
Sugars 3g
Protein 14g
28%
Vitamin A
45.6%
Vitamin C
113.3%
Calcium
7.3%
Iron
23.9%
* Percent Daily Values are based on a 2000 calorie diet.
Do you want to learn more about Chinese cuisine? Check these cooking books – Opens in new tab.
This article was published by chinasichuanfood.com. Click here to read the original.