Individuals working in China – both Chinese and foreign – are required to pay individual income tax (IIT) on their earnings.
Chinese citizens must pay IIT on all income sourced both domestically and overseas (unless stipulated otherwise in a tax treaty), while in most cases foreigners are only required to pay IIT on income derived in China.
IIT in China is levied at a progressive rate, ranging from three percent for monthly taxable incomes of RMB 1,500 (US$240) or less, to 45 percent for taxable incomes greater than RMB 80,000 (US$12,725). A complete breakdown of IIT rates in China can be found here.
International Payroll & HR Solutions from Dezan Shira & Associates
In addition to IIT, employers and employees in China generally must contribute social insurance payments. In some jurisdictions, foreign employees can opt out of social insurance payments, such as in Shanghai.
IIT and social insurance payments are usually withheld by employers and paid to tax authorities on a monthly basis. However, employees are advised to calculate their IIT and social insurance obligations to gain a clear understanding of their salary packages and ensure that they are being paid the correct amount.
The International Payroll and Human Resources team at Dezan Shira & Associates has developed a simple calculator to help employers and employees calculate their monthly IIT and social insurance obligations.
While this calculator is based on publicly available information and tax laws, and was verified by China-based HR and tax professionals, we note this calculator should be used for research purposes only. The calculator does not guarantee the accurate calculation of IIT and social insurance obligations. Further, we note that social insurance contributions are subject to annual reforms; the payment base is calculated from the previous years' annual salary and the payment rate could be revised. Individuals and employers are advised to contact HR professionals for further information regarding IIT and social insurance payments.
About Us
China Briefing is published by Asia Briefing, a subsidiary of Dezan Shira & Associates. We produce material for foreign investors throughout Asia, including ASEAN, India, Indonesia, Russia, the Silk Road, and Vietnam. For editorial matters please contact us here, and for a complimentary subscription to our products, please click here.
Dezan Shira & Associates is a full service practice in China, providing business intelligence, due diligence, legal, tax, accounting, IT, HR, payroll, and advisory services throughout the China and Asian region. For assistance with China business issues or investments into China, please contact us at china@dezshira.com or visit us at www.dezshira.com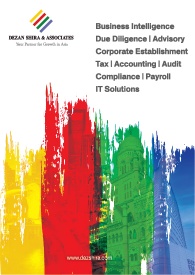 Dezan Shira & Associates' Service Brochure
Dezan Shira & Associates´ brochure offers a comprehensive overview of the services provided by the firm. With its team of lawyers, tax experts, auditors and consultants, it is Dezan Shira´s mission to guide investors through Asia´s complex regulatory environment and assist with all aspects of establishing, maintaini..
---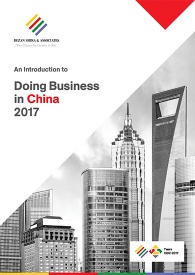 An Introduction to Doing Business in China 2017
Doing Business in China 2017 is designed to introduce the fundamentals of investing in China. Compiled by the professionals at Dezan Shira & Associates in January 2017, this comprehensive guide is ideal not only for businesses looking to enter the Chinese market, but also for companies who already have a presence here ..
---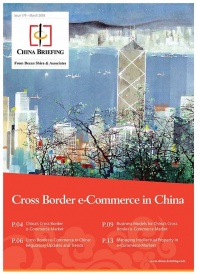 Cross Border e-Commerce in China
While cross border e-commerce (CBEC) is an attractive channel for foreign businesses to sell to China, misunderstandings over how CBEC in China works frequently end in costly disappointments and retreats from the market. In this issue of China Briefing magazine, we offer foreign investors a practical guide to selling t..
---
This article was published by china-briefing.com. Click here to read the original.