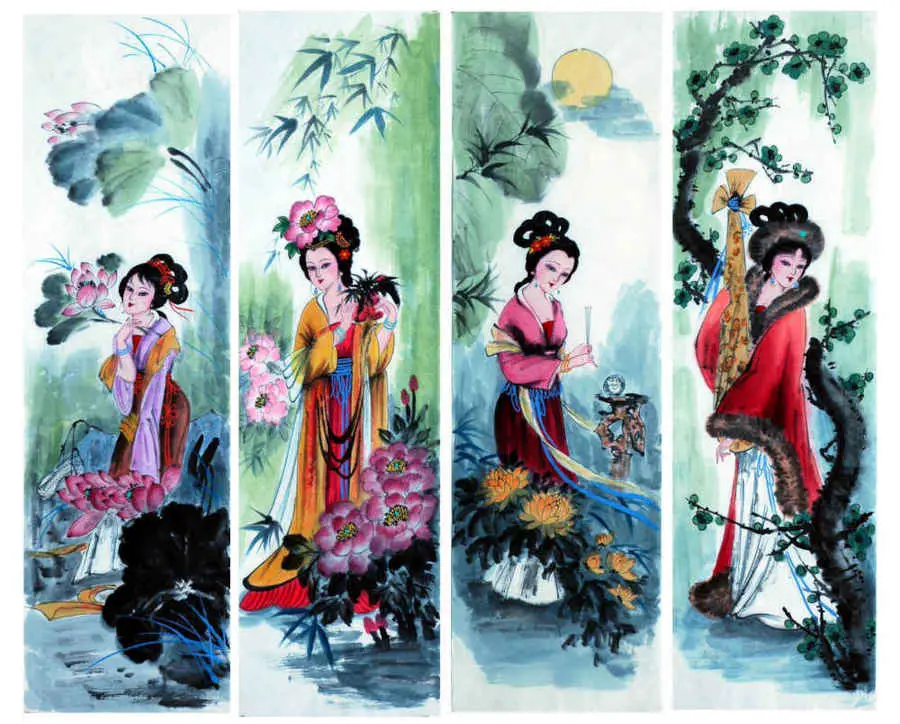 A long time ago, in ancient China, there were four beautiful women who are now known as the "Four Great Beauties" 四大美女 (Sì Dà Meĭnǚ). They were said to be the most beautiful ladies in ancient China. Each of them has been the source of an expression used to describe someone of remarkable beauty.
They were all claimed to have attracted the attention of a governing monarch or emperor in their respective ages. They became famous because of the power they had over kings and emperors and, as a result, the way their actions changed Chinese history. Even kingdoms were brought to their knees by three of the four great beauties. But the majority of them met tragic or mysterious ends.
These four women's names are Xi Shi(西施), Wang Zhaojun(王昭君), Diao Chan(貂蝉), and Yang Guifei(杨贵妃). They are also known as "Sinking Fish", "Falling Wild Goose", "Closed Moon", and "Shameful Flower".
The narrative "Sinking Fish" is about Xi Shi.
The narrative of Zhaojun is described in "Falling Wild Goose."
The story of "Closed Moon" is about how Diao chan worships the moon.
"Shame Flower" is a reference to the noble concubine Yang Guifei's narrative.
Because of the lack of historical sources on them, most of what is known about them now has been significantly inflated by tradition.
This is typical in ancient Chinese texts about female entertainers, or courtesans. Their narratives highlight applications of the early Chinese education employed and developed by the ancient courtesans of China, which was later retained by Confucius as part of his philosophy.
In the Zhuangzi, you can find one of the earliest references to attributes that later became part of the classical Four Great Beauties. Mao Qiang and Lady Li are referred to as "great beauties" in one chapter; "if fish saw them, they would dive to the bottom of the stream; if birds saw them, they would fly away; and if deer saw them, they would break into a run." This phrase is the origin of the well-known Chinese proverb "to make fish sink and birds alight," which relates to feminine beauty.
The Complete Poetry of the Tang shows how "prostitutes" affected the culture of ancient China. Part of the difference between how people thought about prostitution in the past and how they think about it now comes from where the word comes from. The Chinese character 妓 (jì), which is often translated as "prostitute," means "female performer" or "women who provided the joy of their company through music, singing, dancing, and poetry." Despite being referred to as prostitutes, their role was more akin to that of western courtesans.
But even the word "courtesan" doesn't do a good job of describing the well-educated and well-trained women who performed at glamorous feasts. The term would indeed apply to the "upper and more genteel range" of female artists. (Related reading: Concubines in China – History, Training, Life)
Courtesans were instructed not only to become amusing entertainers but also the intellectual equals of nobles, scholars, government officials, and all manner of high society, in contrast to the girls raised in regular homes who were denied an education. The legends about the Four Great Beauties talk a lot about how smart they were and how good they were at performing. This shows that they were not noble ladies who didn't get an education in the arts.
These four ladies are frequently depicted in literature, music, theater, and film. Many Chinese paintings seek to depict their beauty and graciousness, and the stories of these four beautiful women have been frequently adapted for cinema or opera.
Let's find out more about these four beauties.
Xi Shi (西施) (Spring and Autumn Period, 770 – 476 BC)
"When fish saw Xi Shi's reflection in the water, they forgot how to swim and sank to the bottom of the lake." Xīshī chén yú (西施沉魚)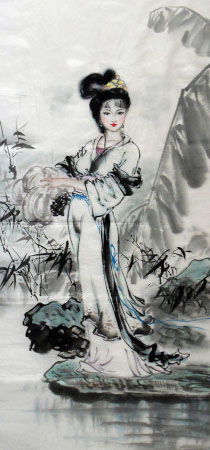 According to legend, Xi Shi 西施 resided toward the end of the Spring and Autumn period at Zhuji, the ancient capital of the State of Yue. Her father was a tea merchant from Zhuji County in Zhejiang Province.
Her beauty was believed to be so intense that when she leaned over a balcony to gaze at the fish in the pond, the fish were so captivated that they forgot to swim and gradually fell away from the surface. From then on, people started calling him "Shen Yu," which means "sinking fish."
When the kingdom of Yue was defeated by the state of Wu, Gou Jian, the emperor of Yue, was captured and sentenced to work in Yue's stables. Finally, the Yue monarch granted him permission to go back home in exchange for a large yearly tribute payment.
His desire to rebel against it was strong, but Fuchai was invincible. However, he had one weakness: attractive women. According to the plan, Xi Shi was sent in to seduce him and destabilize the state of Wu so that the state of Yue could really recover and regain its freedom.
Xi Shi was chosen for this assignment and transferred to Gou Jian after she was seen washing gauzes and garments by the river. Gou Jian approved of the pick and directed his minister Fan Li to teach her aristocratic social skills, such as mannerisms and dancing abilities, in order to make the seduction approach more believable.
Xi Shi may go with Zheng Dan, a fellow beauty who is her best friend, depending on the source. But because she was from a peasant family, Xi Shi had to leave her family.
After Xi Shi had finished her training, she was ready to carry out her assignment: seduce King Fuchai while also providing intelligence to the State of Yue. Xi Shi had no issues carrying out this assignment to protect her state since she felt a bit patriotic.
The wise minister captured the attention of Xi Shi on the journey, and Fan Li also came to respect this brave woman's willingness to risk her life in defense of her nation. But they made the choice to put their relationship aside and focus on serving their country. Therefore, they took a secret vow of love to one another before they separated.
Emperor Fuchai was indeed intrigued by Xi Shi. When asked to perform at his banquet, she not only sang and danced well, but she was also smart and amusing. This demonstrated that she was a courtesan deserving of the title, as she was not only skilled but also in high demand.
The strategy worked. King Fuchai prioritized Xi Shi's demands over military issues. Even though the King's adviser had a bad feeling about something, he tried to warn him, but the King had him killed instead.
As time went on, Emperor Fuchai started to put aside his governmental responsibilities in favor of spending time with Xi Shi. On the other hand, Xi Shi was always focused on her goal.
The result was a reduction in Wu's military power, while Yue's strength was restored. When the moment was appropriate, King Goujian successfully carried out a coup. Wu chose to take his own life since he was unable to take revenge on his seductress.
As a result, the State of Yue was restored, and Fan Li resigned. Restoring Yue was meant to be his final assignment.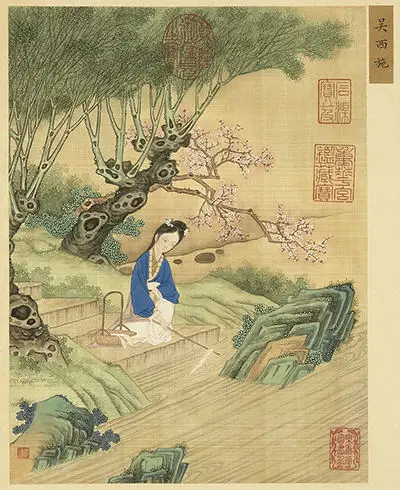 There are two narratives of what happened to Xi Shi:
The first narrative says that Xi Shi chose to stay with her nation and watch it thrive. King Goujian, however, was the kind of person who would even turn on his own supporters in order to ensure his own life. He concluded that Xi Shi was so beautiful that she could enchant him in the same way that King Fuchai had been captivated, leading to his demise. To avoid this, he captured and executed Xi Shi by drowning her in a river.
The second is that after the mission was done, the two of them (Xi Shi and Fan Li) got back together and ran away to a remote part of China, where they lived happily ever after and no one ever saw them again.
According to some readings, Fan Li was smart enough to anticipate his inevitable death if he remained in Goujian's employ for an extended period of time. So he left to save his own life, and he brought Xi Shi with him to save hers as well.
There is a myth that claims that once Wu fell, Fan Li left his position as a minister and moved onto a fishing boat with Xi Shi. They supposedly roamed the foggy wilderness of Taihu Lake like fairies, and no one ever saw them again.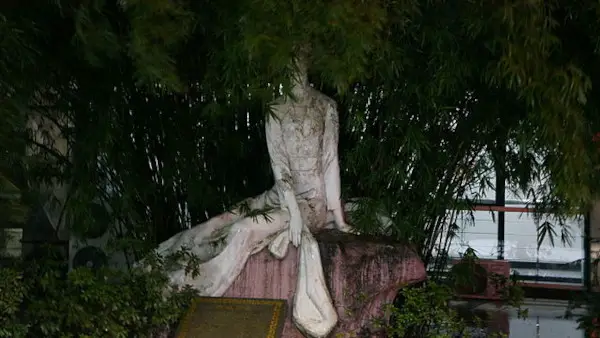 Keeping the Memory of Xi Shi
The Xi Shi Temple, dedicated to the memory of Xi Shi, is located on the southern bank of the Huansha River, near the base of Zhu Lou Hill.
People also say that the West Lake in Hangzhou is an incarnation of Xi Shi, so it is also called Xizi Lake. Xizi is another name for Xi Shi, which means "Lady Xi." Also, Su Dongpo, a well-known Chinese poet, composed a poem praising the West Lake and comparing it to Xishi during the Song Dynasty (960-1279 CE). Since then, the West Lake in Huangzhou province has been known as Xishi (or Xizi) Lake.
Wang Zhaojun  (王昭君) (Western Han Dynasty, 206 BC – 24 CE)
Birds would forget to flap their wings in admiration of Wang Zhaojun's beauty and fall to the ground. Zhāojūn luòyàn (昭君落雁)
Wang Zhaojun (王昭君), who lived during the Western Han Dynasty, is the second of the beauties. Wang Zhaojun was born in 52 B.C. to a notable family in Zigui, Nan county (which is now Zhaojun Village, Xingshan County, Hubei) during the Han Dynasty. She was a stunning woman who excelled at art, Chinese calligraphy, chess, and pipa.
Wang Zhaojun's beauty was so well known at the age of 13 that Emperor Liu Shi (Emperor Yuan of Han) picked her to enter his royal palace as a concubine servant.
She went willingly to save her scholar-official father from being persecuted during the reign of Emperor Yuan. Nonetheless, that was the emperor's command, and she had no choice but to comply.
As a result, she most likely entered Emperor Yuan's harem after 40 BC. She started off as a "lady in waiting." The Emperor didn't have time to physically see these women in waiting; therefore, his only indication of how they appeared were paintings produced by sanctioned painters. In order to increase their chances of success, women frequently pay the artist to improve the appearance of their portraits. In modern times, this is equivalent to paying an editor to digitally edit your photo to make you look more attractive.
In contrast, Wang Zhaojun was so confident in her natural beauty that she declined to bribe the artist. Mao Yanshou, her artist, was angry with her because of this, so he put a mole in her picture to make Wang Zhaojun look like the ugliest of the ladies-in-waiting to the Emperor. As a result, she is condemned to remain a perpetual lady-in-waiting.
In 33 CE, Khukhenye, the Prince of Xiong-Nu, went to see the Emperor. As a result of the interaction, an alliance was formed between the Han state and the Xiong-Nu tribe. In order to strengthen the ties between Han and his state, Prince Khukhenye requested to wed one of Emperor Yuan's daughters.
The Emperor realized the need to maintain the alliance and consented. In place of his daughter, the emperor decided to choose one of his concubines to be the bride. Additionally, he didn't want to offer any of his harem's stunning women, so he played dirty and just chose Wang Zhaojun since she was the plainest-looking.
An alternative version of the legend is that the Emperor asked for volunteers from among the ladies-in-waiting, an option that frightened the ladies into leaving their homes and living in unknown lands.
However, Wang Zhaojun distinguished herself by showing her own bravery and choosing to relocate to the Xiong-Nu region.
The day eventually arrived when Wang Zhaojun publicly introduced herself. The Emperor then realized that he had just made a mistake. He had just given up the most beautiful lady-in-waiting, whom he should have kept as a concubine if that picture hadn't been so poor.
So he started an investigation. It turned out that Mao Yanshou, the artist, would create a more attractive portrait for people who offered him a bribe or vice versa. Since Wang Zhaojun wouldn't do it, he damaged her beauty by making sure the emperor would never know she was in the palace. Emperor Yuan killed Mao Yanshou out of anger.
Prince Khukhenye, on the other hand, was so happy that he got the most beautiful girl that he offered extra perks on top of keeping their alliance. The Emperor denied it, though, this was enough for him; he couldn't go any further.
As a result, Wang Zhaojun left her house to live somewhere else, and the Emperor allowed her to leave.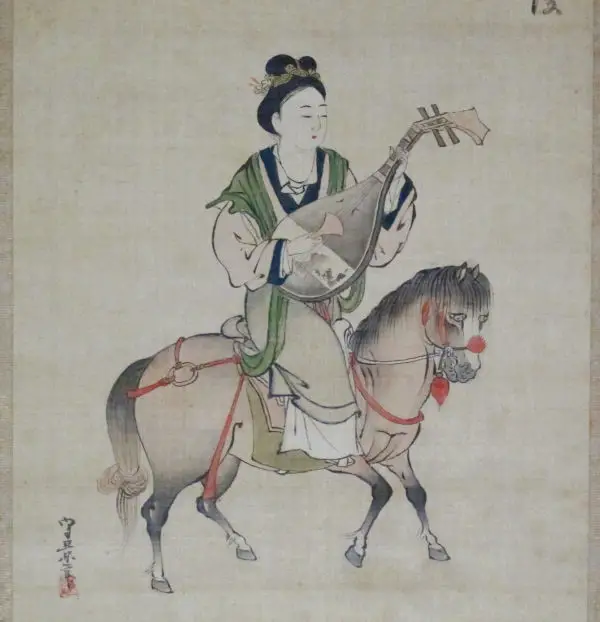 Wang Zhaojun, according to legend, left her birthplace on horseback and traveled north. Her horse neighed along the journey, making Zhaojun unhappy and unable to suppress her feelings. She began to play sad songs on her pipa while she sat on the saddle. When a flock of geese flying south heard the music and saw the lovely young woman on the horse, they forgot to flap their wings and crashed to the ground. Because of this incident, people began referring to Zhaojun as "fells geese" or "drops birds."
When she arrived in Xiong-Nu as the official wife of a leader, she convinced Khukhenye to stop fighting. Even though she was Chinese, the Xiong-Nu tribesmen accepted her, and she became a very important political figure among the tribes. She was given the title Ninghu Yanzhi ("Chief-Consort Pacifying Hu" -寧胡閼氏). As a result, there was peace along the border with her own nation for more than fifty years.
Wang Zhaojun became the Khukhenye's favorite and gave birth to two sons. Yituzhiyashi is the only one who appears to have survived. They also had at least one daughter named Yun, who was made Princess Yimuo and went on to become a prominent person in Xiong-Nu politics.
When Wang Zhaojun's husband and the previous emperor passed away, she asked to go back to China. However, the new emperor refused, saying that Wang Zhaojun's presence in Xiong-Nu was essential to the alliance between Han and Xiong-Nu. Despite the refusal, she continued to be regarded as a significant member of the Empire.
Wang Zhaojun lived the rest of her life this way. Soon after, she died peacefully and was buried properly in the plains of Xiong-Nu.
So, by far, she was the one of the Four Beauties whose story had the best ending. Her death's cause and timing are unknown in historical records. However, there are few alternative stories about how things went after her husband's death.
Legend Number One. Wang Zhaojun sought to return to China when Khukhenye died. Emperor Cheng, however, told her to follow Xiong-Nu custom and marry the next Shanyu, her husband's oldest brother or stepson, who was born by her husband's first wife. In her second marriage, she had two daughters.
Legend number two. She ended up killing herself instead of sleeping with a family member, which was sad, but the Xiong-Nu tribe still loved her and gave her a proper burial.
Legend number three. Most people thought that Wang Zhaojun had found a way around this custom to avoid incest. Because of her deeds, China and Xiong-Nu enjoyed a long period of peace. She died as a result of natural causes.
Wang Zhaojun's legacy of peaceful coexistence between the Han and the Hun was carried on by her descendants. The story of how she moved to Xiong-Nu is a well-known part of the history of friendship and unity between different Chinese groups. It is also a common theme in Chinese poetry, drama, and books.
Check out our "Free Culture Library". We have compiled some great free resources, about Chinese culture, for your research.
Keeping the Memory of Wang Zhaojun
Wang Zhaojun represented the Chinese nation's unity. The generations who follow her admire her sacrifices. Today, her tomb in Hohhot, Inner Mongolia, is one of eight special scenery spots in Inner Mongolia. It was built by the Huns in the past to honor this goodwill diplomat from the Han. The story of Zhaojun leaving the frontier was very interesting to many artists from every dynasty. They used her story as inspiration for thousands of works of music, painting, poetry, drama, and novels, among other things.
(Click here) Read the stories of the other two great beauties in the next article.
Online Courses about Chinese Culture from Udemy (Aff.link)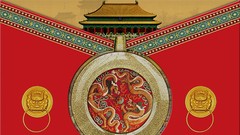 Featured image from artisoo.com