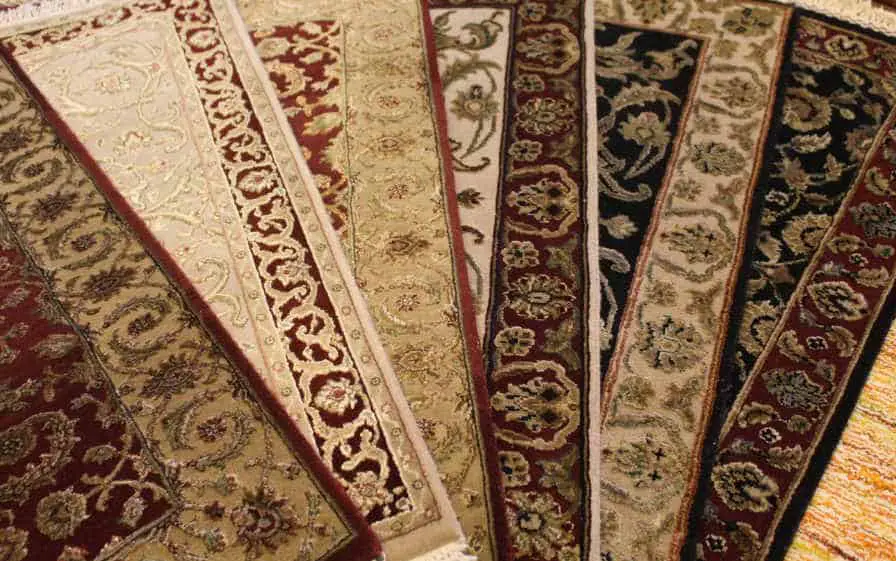 Carpet making is rather a new Chinese art compared to others. It began in the 17th century with the support of the Chinese Emperor K'ang-hi.
However, it is the rugs from the 1930s that are getting the most attention these days.
The Fette, Peking, and Nichols rugs are very popular! Buying Chinese rugs can be a very good investment, but also contributes to your home decor. Below are the top 3 types of Chinese rugs to buy.
Check out our "Free Art Library". We have compiled some great free resources, about Chinese art, for your research.
Peking Rugs
Chinese rugs were first woven, centuries ago, by nomadic tribes of western China. However, the revival of rug weaving began in the 19th century, on a commercial basis, when other weaving areas moved to the capital.
Peking rugs are Persian knotted on cotton foundations. They are normally minimalistic with designs inspired by the Chinese heritage.
The original Peking rugs would have a centered design as the focal point and then an all-over pattern. They were commonly found in traditional blue, ivory and camel palette.
Chinese rugs designed into the 1970s still carried the influential styles of antique Peking rugs. Peking Rugs dating to around the early 1900s would cost anywhere from $5000 and up. More modern reproductions from the 1970s right up to current can be purchased for much less.
If you are looking for a financial investment don't bother with the new ones. But if you are looking for home decor, they are an excellent choice and no one but a professional will know the difference.
Click here to see some awesome Peking Rugs.– Opens in new tab.
Nichols Rugs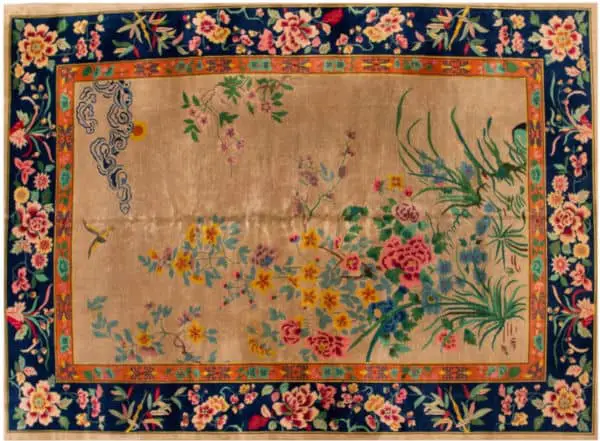 After an exhibition of Chinese rugs in Germany in 1880, the Western demand for Chinese rugs began to raise. After a few years, in 1903 a new style of Chinese rugs won the first prize at the St. Louis international exhibition.
This style of Chinese rug was produced from the early 1900s to the early 1930s, and the most famous manufacturer was Walther Nichols.
Nichols founded his company, "Nichols Super Yarn and Carpets" in 1924 in Tianjin, North China. These rugs were woven with solid top quality wool pile and cotton foundation.
Their designs were modern with minimal Chinese elements. The colors were particularly unusual in Nichols's rugs. Bold and bright often include greens, bronze, mustard, gold, red, magenta, purple, blue and other vibrant colors.
Nichols rugs were heavily influenced by the art deco period and were created using a wonderful mix of colored wools that were blended to create a style that is still very popular even today. Many other carpet companies throughout Nothern China have copied
Nichols's designs and methods. The authentic Nichols's rugs were marked with a small square piece of fabric, sewn into one of the corners at the back. Additionally, Nichols stamped his rugs along the white cotton fringe with "Made in China by Nichols". Today both marks are almost always missing due to abrasion and washing.
These days the Nichols rugs are quite expensive. You can expect to spend $2500 or more depending on size, style, and age. They are a beautiful addition to a room and an excellent investment!
Click here to see some awesome Nichols Rugs.– Opens in new tab.
Fette Rugs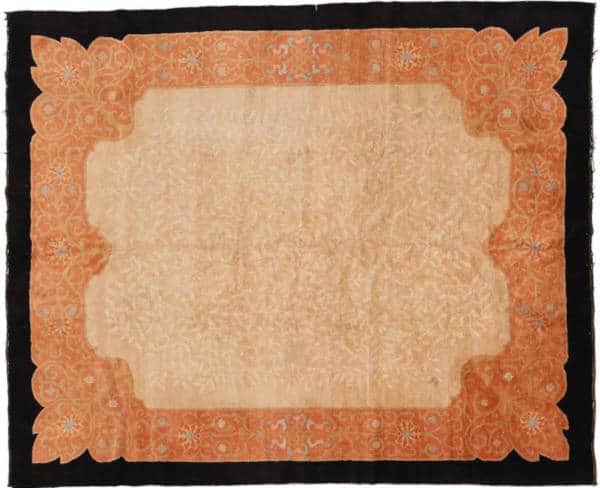 Fette rugs are the mates to the Nichols, came into the market place in the early 1900s as well and remained until the late 1940s.
Helen Fette went to China as a missionary. In the beginning, she started selling rugs in order to raise charity funds, but later (1920) collaborated with the experienced Chinese rug manufacturer Li Meng Shu to form the Fette-Li Company.
Soon, Fette-Li Company became one of the largest rug exporters of the time. Fette rugs were well known for their excellent reproduction of the Peking designs and patterns but with a European influence.
Τhey stood out from the competition because of their floppy feel, which was a result of the thinner and more pliable cotton warps.
Check out our "Free Art Library". We have compiled some great free resources, about Chinese art, for your research.
Like Nichols, Fette also placed fabric labels on the back of their rugs.
Before you spend large amounts of money, take some time to learn as much as possible about the style you are interested in. This is especially critical if you are buying Chinese rugs for an investment. If you are not sure, then hire a professional to give you an estimate of quality and value.
If you are simply looking for Chinese rugs to complete your decor then consider purchasing one of the more modern styles for substantially less money. They will look just as beautiful and you won't have to worry about stains or deterioration that could depreciate the value of your investment. Believe me when I tell you that no one will be able to tell the difference except for an experienced professional, especially if you buy a high-quality reproduction.
Remember that Chinese rugs not only look great on the floor they also look terrific as wall hangings. So use it as you will! Chinese rugs are a fashionable and beautiful addition to your home!
Click here to see some awesome Chinese Antique Rugs.– Opens in new tab.
Online Courses about Chinese Culture from Udemy (Aff.link)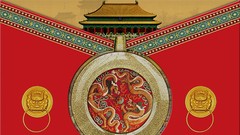 Featured Image by Sachit Dixit from Pixabay