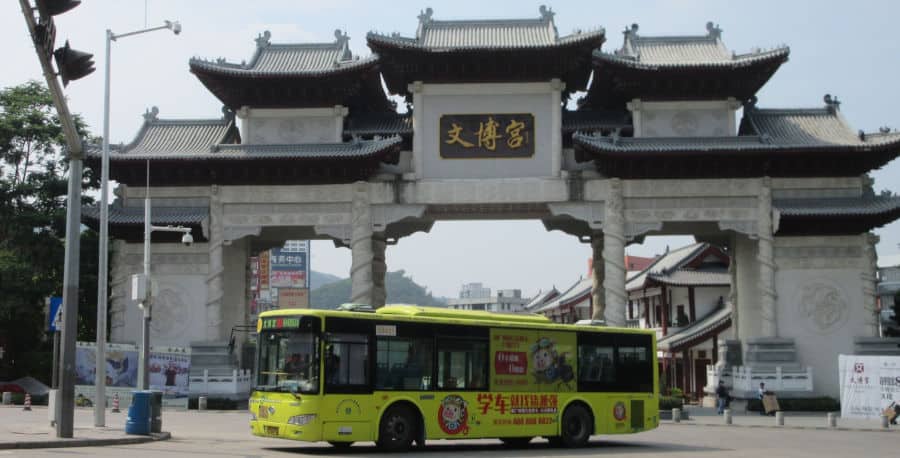 When it comes to traveling to and in China, transportation is often a major concern. Whether you are a tourist planning to visit China, or you are going to move to China to live and work, how you will get around China is obviously very important to consider.
Flying on a plane or hopping on a train are often the top considerations when it comes to traveling in China. Flying is obviously the fastest option to roam the huge country, and trains are cheap and reliable.
However, there are always cases when China's intercity bus is your only (or best) transportation option.
Due to the massive network, however, getting around a bus in China can be quite confusing, and this is where this traveler's guide about traveling by bus in China might help you.
Pros and Cons of Traveling On a Bus in China
As with any transportation method, there are some key advantages of why you might want to take a bus in China, and there are also a few reasons why other transportation methods might be better.
Let's start by discussing why a bus is a good option when traveling in China:
Affordability: they offer a more affordable means of transportation compared to trains and taxis. Especially for traveling between cities, a bus is much cheaper than traveling by train.
Availability: Unlike trains and flights in China where you most likely must buy the ticket a day n advance, bus tickets tend to have more availability and in most locations, and so you can generally buy it on the day of departure.
Trip frequency: Chinese buses have more trips than flights or trains in China. There will be a bus between two different cities at least once every hour if not more often. This will obviously help with availability, as discussed above.
Convenience: Security in most bus stations are more lenient compared to train stations and airports.
Location: Bus stations in China are mostly located in the heart of the city, while most train stations are usually on the edge. So, typically the bus station is closer to your hotel if you stay in tourism areas.
However, there are also common disadvantages that might cause you to potentially avoid bus travels in China:
Slow: traveling by bus can be 30% to 50% slower than trains, and obviously it's much slower than planes.
Ride quality: Sometimes you might get a newer bus that is comfortable to wear, but on the other hand you might also get a really old bus. So, it's sometimes a gamble.
Delays and Traffic Jam: Delays are, unfortunately, quite common in China for all kinds of transportations. While buses typically leave right on time, you might get stuck in traffic, especially if you are in big cities like Beijing or Shanghai. Buses are, unlike trains and plains, prone to traffic jams, and when you are stuck in traffic, there's not much you can do.
Crowd: It's not uncommon to see people smoking on a bus (although it is forbidden and there are a lot of signs saying so). Also, people might carry various things during their ride that might cause discomfort to other travelers (things that are too big, with bad smell, etc.) These things are much more controlled on planes and trains.
Related reading: "Top 5 Famous Chinese Temples You Must Visit"
Different Kinds of Buses in China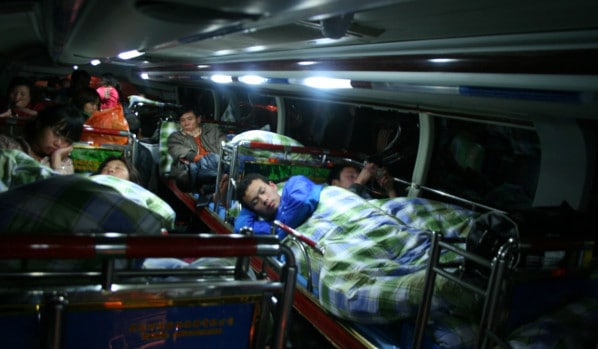 We can typically divide the buses in China into several types based on the distance of your travel:
Short-range bus: usually used on routes that are three or four hours long or under. The most common intercity buses. They are relatively clean (but can be a gamble) and you won't have any attendant. These buses will stop along the way and pick up more passengers, and not all of them have AC (in that case, the windows are open). Typically doesn't have a washroom and no free water (you have to buy some).
Medium-range bus: usually used on routes that are around six hours long, and usually on non-stop express routes. Relatively cleaned and the AC is always on, and typically has one attendant. There might be a washroom inside the bus, but not always. In most cases, a bottle of water is provided for free.
Long-range bus: also called 卧铺, wòpū chē, literally translated "sleeper", used on routes that are more than seven hours long. People lie in bunks that are stacked two or three high and two/three across. Usually, there's at least one attendant (can be more). On an overnight trip, the bus will stop every few hours or so so you can buy food and take a leak.
How To Figure out Bus Schedule in China
Probably the biggest issue about taking a bus, especially an intercity bus is figuring out the bus schedule. Unlike planes and trains, you can't easily buy tickets and check bus schedules online.
The schedules are mostly written in Chinese, and the process is usually not intuitive.
For intercity connections, China buses commonly depart every half an hour or every hour, and in some cases, every twenty minutes. In certain routes, there are cases where only a couple or even one bus departs each day.
In general, here are our tips on how you can figure out the Chinese bus schedule:
Related reading: "How To Travel in China Without Speaking Chinese?"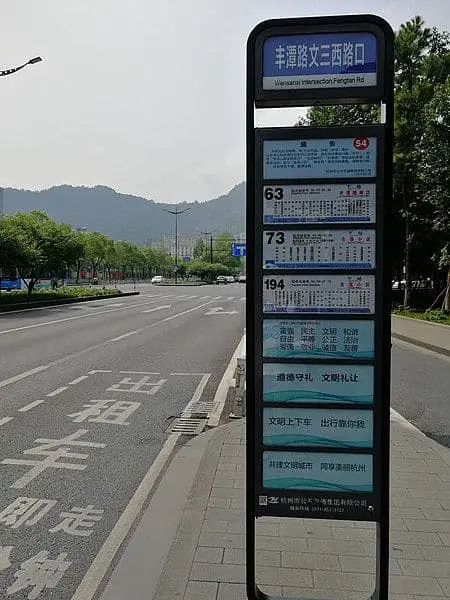 1.If you can read Mandarin Chinese
If you can read at least a little Mandarin, then it's going to be much easier for you. Most bus stations will have the bus schedule posted on the wall, and nowadays a lot of the stations have an LED board that list destinations and departures to different cities.
Fortunately, especially in big cities, these schedules might be translated into English, but often they aren't.
Apps like Google Lens (with VPN since you can't access Google in China) that lets us translate characters recognized by our camera can certainly help nowadays, but if you can read Mandarin, it will significantly help.
If you can also write Mandarin, then you can search "X to Y bus schedule" (with X and Y being city names) on baidu.com. While the results arent always up-to-date, but it can provide you with a general idea.
2.If you can't read Mandarin Chinese
If you can't read Chinese, don't worry too much as there are other solutions. A good approach is to get a good travel guide book for China, which typically includes bus schedules. Make sure the book is the latest edition.
There are also various sites in English (like this one) that offer interactive and up-to-date bus schedules.
Also, you can use various English-Chinese translator apps (like Google Translate+VPN) to ask the people at the ticket counter. Most of them are willing to help you.
Also, you can ask the people in your hotel or hostel, which can inform you regarding the bus schedules.
Related reading: "A Tourist's Guide to Accessing the Internet in China"
How To Buy Tickets in China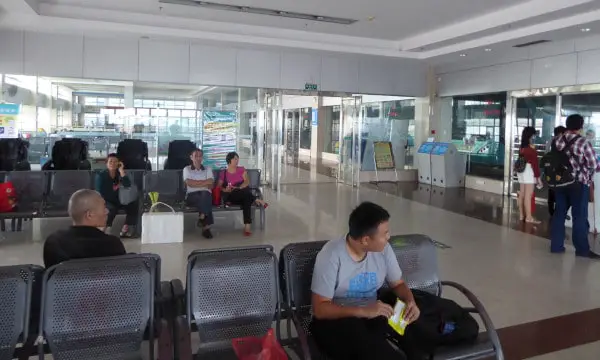 Just like for trains and planes, you'd have to show your passport to buy a bus ticket in China, so have your passport ready with you.
There are several different ways to purchase a bus ticket in China:
At the station: arguably the simplest way. Go directly to the bus station and buy at the ticket counter. As mentioned above, most of the time you can purchase on the same day. You can use voice translator apps or have the previously researched destination written in Chinese so the ticket salesperson can understand you.
Online purchase: there are multiple websites where you can purchase bus tickets. However, keep in mind that they might not list all routes and they might charge you with small commission fees. Here are some common sites to purchase your ticket online:

China Bus Guide: a popular and useful site where you can check bus schedules and routes in English. You can also buy tickets here, but it's not their primary service and it's not automated. You will have to request a ticket via the contact form.
EtripChina: you can easily buy the bus tickets in real-time here (in English), and you can then pick the ticket up at the station. It will typically cost $3 to $5 in commission.
🧧 Use our free "ChinaGoGuide" app. Your personal guide to your journey to China. Try it now!
End Words
That's it, hopefully, now you have been encouraged to give the local buses a try when traveling in China. To close this article, here are some additional tips that might help you:
Bring your own food. Food options can be limited and some bus routes won't serve any food at all. It's better to bring your own food, snacks, and water in your own bag.
The night sleeper bus is usually cheaper (and you can save yourself the cost for a hotel).
Be careful of your valuables. Store your luggage in the lower compartments, but have all your valuables with you.
Traveling by bus can be an affordable and enjoyable experience, an opportunity to enjoy China's beautiful landscape while traveling across the country.
Plan your trip ahead and if you can, purchase your tickets online so it won't be a hassle when you are already in the Middle Kingdom.
Related reading: "Window of The World – awesome miniature Theme Park"
Featured image by YuagoofrepoA from Wikimedia Commons (CC BY-SA 4.0)